Preparing Your Home for Sale
We don't need to tell you that buying or selling a home can be stressful. At The Becker Group, we believe that a lot of this stress can be reduced or eliminated with some simple information explaining the complex real estate process. That's why we provide the information on this website free of charge!
However, if you have a question or concern that you can't find an answer for here, we still want to help. Use the form to the right in the red box to send us your question and someone on our team of professionals will get back to you shortly. Your question will be answered honestly and you will not be bothered to list your home, nor will you be pestered into buying. We respect your need for knowledge and advice, and are here to assist you in any way we can.
If you are thinking about putting your home on the market, please use us as a FREE resource to help you prepare your home for sale. We have a Certified Staging Consultant on staff and offer this service for FREE and without obligation. (In controlled tests conducted by the Real Estate Staging Association that compared identical homes, the non-staged houses sold in 102 days, while the staged properties sold in 45 days.)
.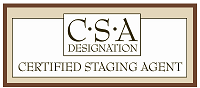 In addition to FREE Staging Consultations, we also offer FREE Home Evaluations.
(Your info is kept confidential and is never shared! )